August 4th, 2007
Our schedule has finally been finalized!
The Seasons Baroque Ensemble will be performing four concerts in New Brunswick this coming week.
Thursday, August 9, 1:00pm – St. Andrews
Friday, August 10, 12:10pm – Fredericton
Friday, August 10, 7:30pm – Oromocto
Sunday, August 12, 2:00pm – St. John
The other exciting news has to do with where you can go to get more information about these (and other) concerts: Early Music Fredericton now has a website! I've carefully not mentioned where the concerts are actually happening in this blog post, so that you'll have to follow the link the find out! We're moving ahead with making this a 'real' organization to help manage our early music activities in Fredericton and around the province, and to encourage more of it to happen! Sari did most of the work on the design and coding for the site, which is why it looks so darn good.
August 1st, 2007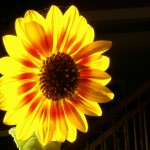 Flowers, Bugs, Cats and Sunsets
(more…)