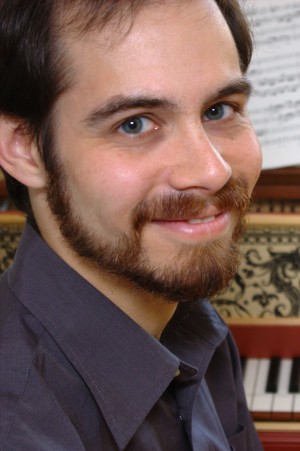 Jonathan Addleman began his university studies at McGill university, playing the saxophone. He quickly discovered his affinity for the harpsichord, and completed undergraduate degrees in both instruments as well as a Masters in harpsichord. Notable performances at McGill include operas by Cavalli, Telemann, Handel, and Mozart; performances with both the baroque and symphony orchestras; and numerous chamber music recitals, of both early and contemporary music.
Since then, Jonathan has been in demand as an accompanist and soloist, performing with ensembles such as the Laval Symphony Orchestra, Ensemble Da Capo, Atlantic Sinfonia, and Toronto's Aradia Ensemble and I Furiosi. In a duo with violinist Sari Tsuji, he has a recital series in Fredericton, New Brunswick, presenting varied programmes including the complete sonatas for harpsichord and violin by Bach. Also in Fredericton, he recently gave a concert with violinist Nadia Francavilla of the complete Mystery Sonatas by Biber, as part of the Music on the Hill series.
Jonathan continues to be a versatile musician and multi-instrumentalist, performing regularly on organ and accompanying the Every Kid Choir on piano, and is also active as a chorister with the St. James United Church choir. He is the harpsichord technician at Concordia University, and tunes and maintains instruments for for organizations such as CAMMAC, the Montreal Baroque Festival and Ensemble Arion.
Contact